Over the years I came to realize that many people, who actually love to travel, barely take into consideration the German cities as destinations for their vacations or city breaks. I met people, who traveled around the world but, nevertheless, they can't point out cities like Leipzig, Köln or Dresden on World map. Could this be because many of this cities were completely destroyed by bombs during World War 2 and thus they don't have as much to offer anymore? Well, this could happen for all kinds of reasons but as far as I am concern those German cities have always touched a string in my heart and also fascinated me much more than I would have expected herunterladen. This may be the main reason why today I decided to write this article about a city that few of us visited and that, needless to say, it doesn't disappoint.
Dresden, the city I'm referring to, is the capital city of the Free State of Saxony in Germany, situated in a valley on the River Elbe, near the Czech border. Because of the pleasant location and the mild climate on the Elbe but first of all due to its Baroque-style architecture and numerous world-renowned museums and art collections, Dresden has been called "Florence of the Elbe" and it is the fourth largest urban district by area in Germany after Berlin, Hamburg and Cologne (Köln) cool games for free. Its name etymologically derives from Old Sorbian "Drežd'any", meaning "people of the riverside forest".
I must admit the fact that I came across this city by complete fluke. More than a year ago, to be more specific on November 2010, I went on a mini trip (by car) to Prague and as I was looking for something on Europe Road Atlas, I suddenly noticed that two German cities weren't too far away from where I was at that moment. It took me less than 5 minutes to make up my mind and to realize I desperately wanted to see the beautiful city of Dresden, located only 120 km away from Prague so I went for it windows 8-datenträgerabbilder (iso-dateien) herunterladen. Dresden, I must say, is absolutely breathtaking, very similar to Italian cities. At first blush, the city didn't seem so old but at a closer look you could see it hided centuries of history and also fascinating stories of a glorious past, total devastation and continuous regeneration.
Dresden in the 20th century was a leading European centre of art, classical music (Friedrich Schiller wrote his "Ode to Joy"-the literary base of European anthem- for the Dresden Masonic Lodge in 1785), culture and science (the city was known as the "Jewel Box") until its complete destruction on 13 February 1945, when a controversial Allied aerial bombing killed thousands of civilians and destroyed the entire city center. The impact of the bombing and 40 years of urban development during the East German communist era have considerably changed the face of the city. Many important historic buildings were rebuilt, including the Semper Opera House, the Zwinger Palace, although the city leaders chose to reconstruct large areas of the city in a "socialist modern style", partly for economic reasons, but also to break away from the city's past as the royal capital of Saxony and a stronghold of the German bourgeoisie raumpilot herunterladen.
Everywhere in this city – on the streets, in restaurants, bars of cafes, shop or parks – you can still witness the sweet feeling of nostalgia. People didn't seem to forget the city's glorious past and they acted appropriately. What impressed me the most was the elegance that was literally floating in the air. On my first day in the city I went for dinner to a restaurant located in the Altstadt (Old Town). The restaurant was overcrowded with Germans, all dressed up to the nines, as if they popped up at the tables just after they had enjoyed a play at the Theater or a musical at the Semper Opera House geogebra 5.0 herunterladen. The way they talked, gesticulated and ate made me feel like I was witnessing a scene from the 18th century and outside the restaurant there was a beautiful carriage waiting to take me in an unforgettably journey through time and history. Ok, back to reality now! After I finished dinner and I was slowly breaking away from the Old Town, I could clearly see the first signs that the 40 years of communist totalitarian rule had left behind. There were those grey concrete apartment blocks, those creepy statues of past Communist leaders in the parks and those department stores where you could find just everything, except for the things you really needed amerikanische appsen android. I suddenly felt like I was wandering the streets of Bucharest and I just couldn't believe I was in Dresden anymore. The legacy of the communist-era is still omnipresent in this city reborn from its own ashes.
I would like to conclude now by saying that today Saxony is one of the brightest stars in the East and the beautiful city of Dresden managed to maintain its magic and charm and to prove to us all that German cities still have their unique attraction and charisma among the other cities in Europe.
De-a lungul timpului am observat faptul că mulți, dintre cei cărora le place să călătorească, foarte rar aleg ca destinație orașele nemțești whatsapp sprachnachrichten. Am întâlnit oameni care dețin un "CV de călătorii" impresionant dar cu toate acestea nu știu să localizeze pe hartă orașe precum Leipzig, Köln sau Dresda. De unde un interes atât de scăzut vizavi de orașele nemțești? Să fie oare din cauza faptului că multe dintre ele au fost, într-o proporție foarte mare, distruse în urma celui de-al doilea Război Mondial și astfel foarte mulți le consideră oarecum sărace în obiective turistice? Nu știu alții cum sunt și ce motive au dar pe mine m-au impresionat și fascinat de fiecare dată, probabil mult mai mult decât m-aș fi așteptat și tocmai de aceea m-am hotărât astăzi să scriu acest articol despre un oraș pe care foarte puțini dintre noi l-am vizitat dar care nu își dezamăgește niciodată audiența rollercoaster tycoon 2 downloaden nederlands.
Dresda, capitala Saxoniei, este situată pe valea râului Elba, în apropiere de granița cu Cehia. Supranumită, cu mult timp înaintea celui de-al doilea Război Mondial, "Florența de pe Elba" datorită poziționării geografice, climei blânde, arhitecturii baroce și a numeroaselor muzee și colecții de artă, Dresda este astăzi al patrulea oraș ca mărime din Germania după Berlin, Hamburg și Köln. Numele provine de la cuvântul "Drežd'any" din soraba veche (ramură a limbilor slave de vest) și se traduce prin "locuitorii pădurii de la malul râului".
Am ajuns să vizitez acest oraș cu totul întâmplător. Acum un an, mai exact în noiembrie 2010, am "întreprins" o mini-excursie (cu mașina) la Praga iar într-una din acele zile, în timp ce căutam ceva pe harta Europei, am realizat cât de aproape se aflau orașele nemțești Leipzig și Dresda sql server 2019. Deoarece timpul îmi permitea am decis pe loc să pornesc spre Dresda, situată doar la 120 km depărtare (1 oră și 30 de minute de mers cu mașina). Trebuie să recunosc încă de la început faptul că Dresda este un oraș absolut superb, foarte asemănător cu multe dintre orașele italiene. La prima vedere clădirile păreau destul de noi dar cu cât mă apropiam mai mult de centrul (vechi) al orașului, puteam observa din ce în ce mai bine faptul că istoria încă mai are un cuvânt greu de spus. Pretutindeni puteai simți reminescențele unui trecut glorios, îngropate (încă nu pe deplin) în negura unor vremuri demult apuse. Povestea Dresdei este însă una mult mai interesantă și mai acaparatoare decât v-ați putea imagina Download windows 7 for free full version german.
Epoca de aur a orașului a fost în prima jumătate a secolului XVII sub domnia lui Augustus cel Puternic, Principe Elector al Saxoniei și Regele Poloniei. În secolul XX Dresda reprezenta unul dintre cele mai puternice și influente centre culturale din Europa. Arta, muzica clasică (Friedrich Schiller a scris în 1785 "Odă bucuriei", care mai târziu, prin interpretarea muzicală a lui Beethoven, a devenit imnul Uniunii Europene, pentru Loja Masonică din Dresda) și științele au cunoscut o dezvoltare suprinzătoare pe teritoriul acestui oraș, astfel încât Dresda a fost cunoscută sub numele de "Cutia cu bijuterii" până pe data fatidică de 13 februarie 1945, când Aliații decid bombardarea orașului, în urma căruia mii de civili sunt uciși iar centrul orașului este distrus din temelii. Cei 40 de ani care au urmat, sub dominație comunistă, au schimbat total fața orașului. Multe din vechile clădiri au fost reconstruite, incluzând Opera Semper și Palatul Zwinger, în ciuda faptului că liderii au ales să reconstruiască  orașul în mare parte într-un stil socialist modern, din motive economice dar și pentru a șterge din memoria colectivă trecutul burghez.
Orașul, însă, s-a încăpățânat să nu renunțe la trecutu-i glorios iar locuitorii săi păstrează încă acel dulce sentiment de nostalgie, lucru pe care l-am observat pe străzi, în restaurante, magazine sau parcuri. Ceea ce m-a impresionat cel mai mult a fost eleganța și bunul simț al oamenilor. Seara restaurantele din centrul vechi erau pline până la refuz cu nemți îmbrăcați la patru ace, atât de eleganți de parcă abia sosiseră de la o piesă de treatru sau de la operă. Felul în care vorbeau, gesticulau, sorbeau din pahare și mâncau te făcea să simți că te afli în alt secol (trecut) iar afară te așteaptă o superbă trăsură care te va purta într-o călătorie de neuitat în timp pe malurile Elbei. Ok, să ne întoarcem totuși la realitate. Cu cât te îndepărtai mai mult de centru, puteai observa foarte clar amprenta pe care cei 40 de ani ai dominației comuniste au făsat-o asupra orașului. Blocurile gri din beton, înalte și îngrămădite, statuile austere al foștilor lideri comuniști din parcuri și magazinele universale în care puteai găsi orice, mai puțin lucrurile de care aveai cu adevărat nevoie, te transportau parcă într-o altă lume, atât de cunoscută mie, poate chiar în mohorâtul București al zilelor noastre, nevenindu-ți parcă a crede că superbul oraș care a renăscut din propria cenușă se află doar la o aruncătură de băț.
Cu bune și rele, Dresda rămâne un oraș fermecător, reușind în mare parte să-și păstreze aerul burghez de odinioară și să dovedească faptul că orașele nemțești încă mai au un cuvânt greu de spus în ceea ce privește istoria și cultura Europei.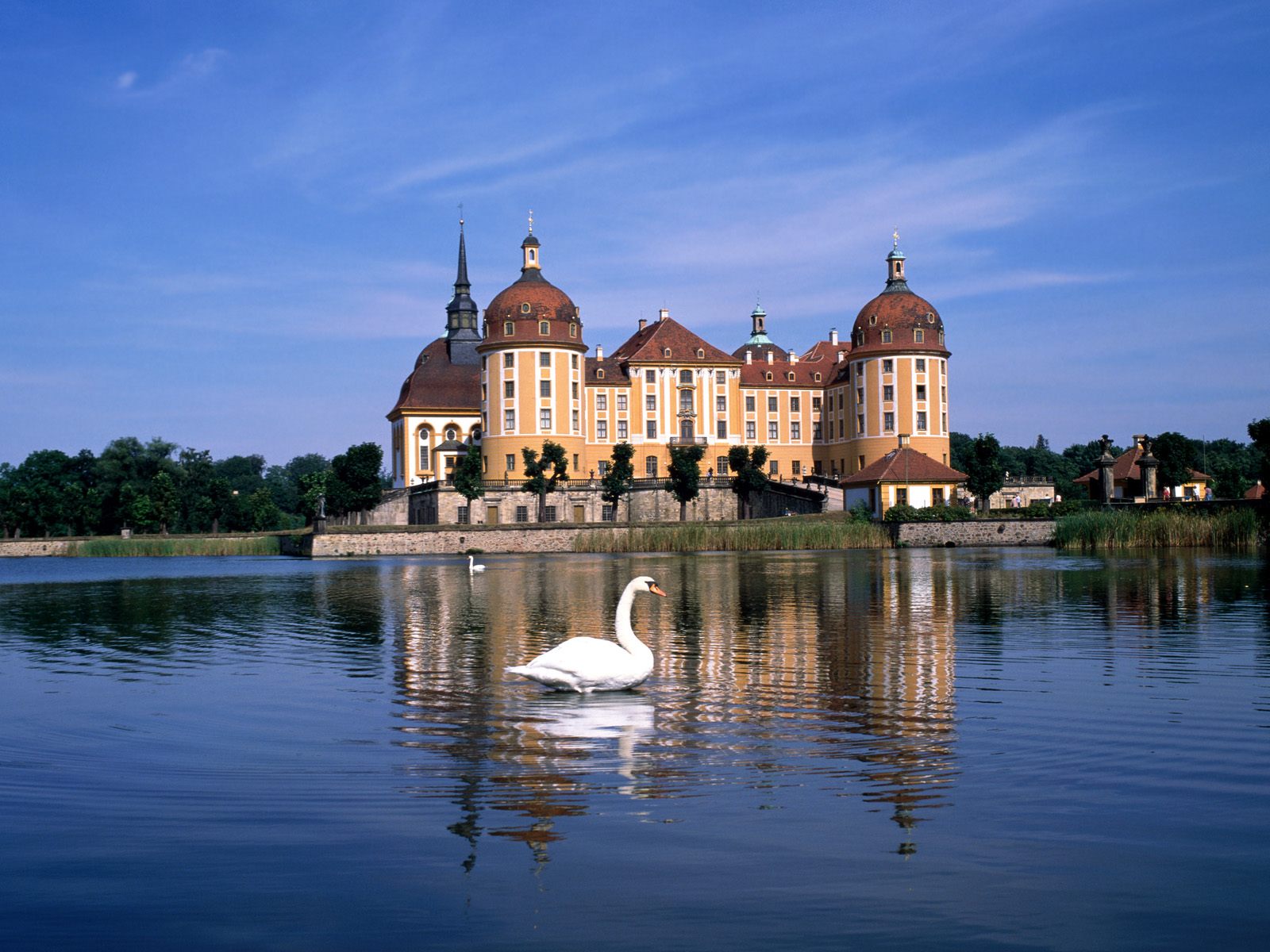 Photo source: first picture: blogostoso.wordpress.com, last picture: citypictures.net