I'm sure you have already noticed this guy we are going to talk about today. He is all over the internet: on street style blogs posing outside the main fashion shows, on the official websites of the biggest fashion magazines answering questions about style, trends and the essential pieces for the upcoming season and on men's fashion blogs from all over the world rocking perfectly fitted suits, leopard print trousers, button-down oxford cloth shirts, matching shirts and ties (or jackets and ties), cargo shorts, colored brogue, navy blazers, grey cardigans, camouflage slip-on sneakers, bright colored belts, always looking so masculine in contemporary tailored clothing. This white bearded hard-ass, mustachiosed and tattooed internet phenomenon has became, over the last few years, a truly style icon thanks to his ability of always looking good and dressed to the nines and also thanks to some people like Scott Schuman and Tommy Ton, who saw his great (fashion) potential and turned him into one of the most stylish men walking the streets of New York City.
Nick Wooster was born 51 years ago in a little town in Kansas and began his fashion career working for Barney's New York as a buyer. In 2005 he established the successful "Wooster Consultancy" and has since then worked with clients such as "Thom Browne", "MAC Cosmetics" and most recently "Gilt Group". Then he became the Men's Fashion Director at Bergdorf Goodman (the luxury goods department store in New York City and a subsidiary of Neiman Marcus) and Neiman Marcus (a luxury retail department store in US). Last year, though, they let him go. Rumour has it, he was fired just two days after he had stated for GQ the following about his position there: "I am just an old f…ing midget queen (n.r. he is an openly gay man) who, you know, had the good fortune to get this job and it's like <How did that happen?>". This summer, after one year of sitting out, he became the new Creative Director for JCPenny's men's clothing business (a chain of American mid-range department store).
Asked by Laura Coronado (from lollieshopping.com) to explain the men's growing interest in fashion and style, Wooster stated: "The metrosexualization that occurred in the late 90s and the earlier part of this decade has given men the okay to care about how they look. What a 50-year-old guy looks like today is different than what a 50-year-old looked like 20 years ago, so guys have learned to take better care of themselves. They've got to go to the gym. They've got to use skincare products. And consequently, they are interested in how they present themselves and how they dress. I think it's all the events, economical and societal, that have given them the okay. And I think it's their own desire. Everybody wants to be told they look great. When men realize with a little effort and care they can transform how they look, they're interested in doing it."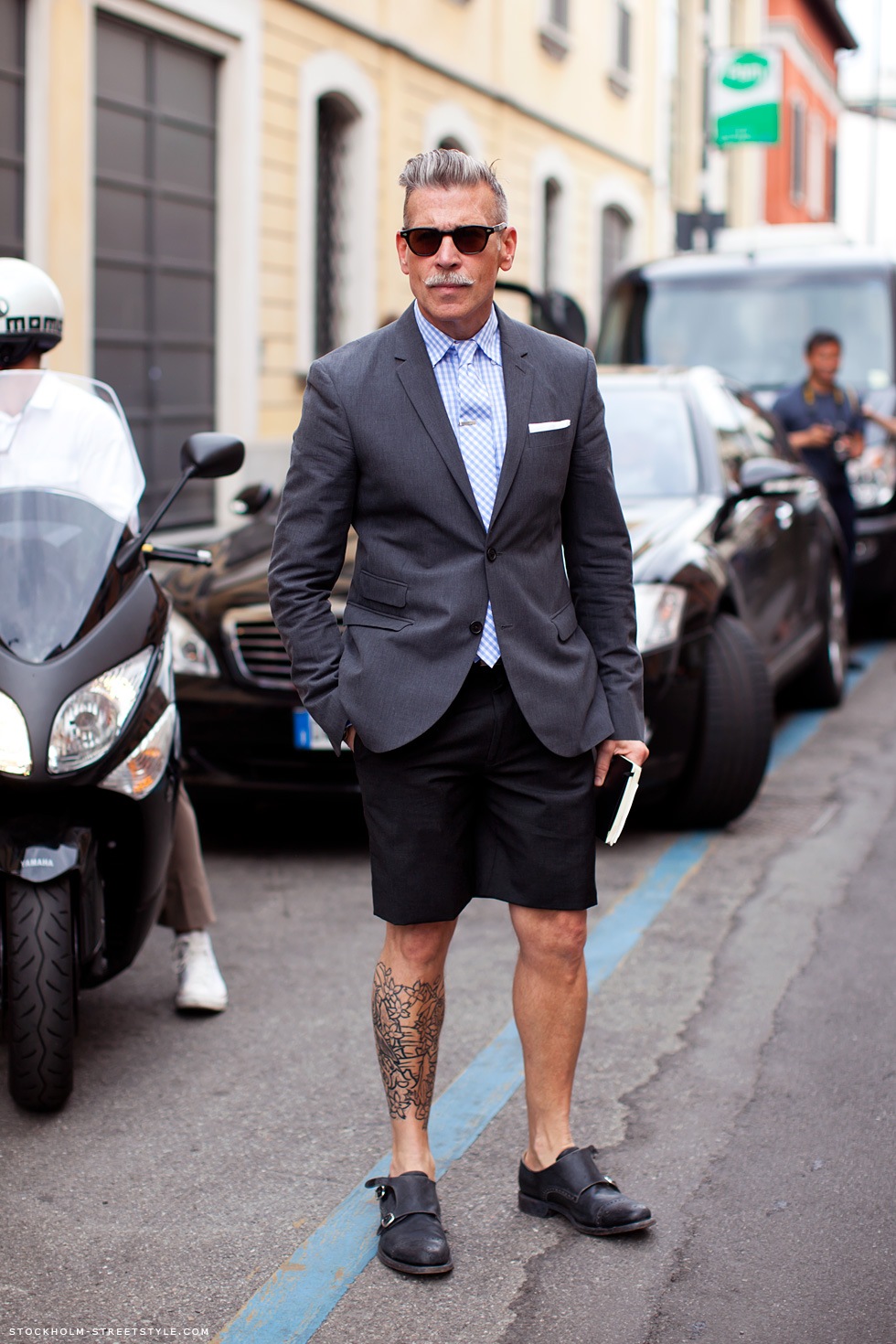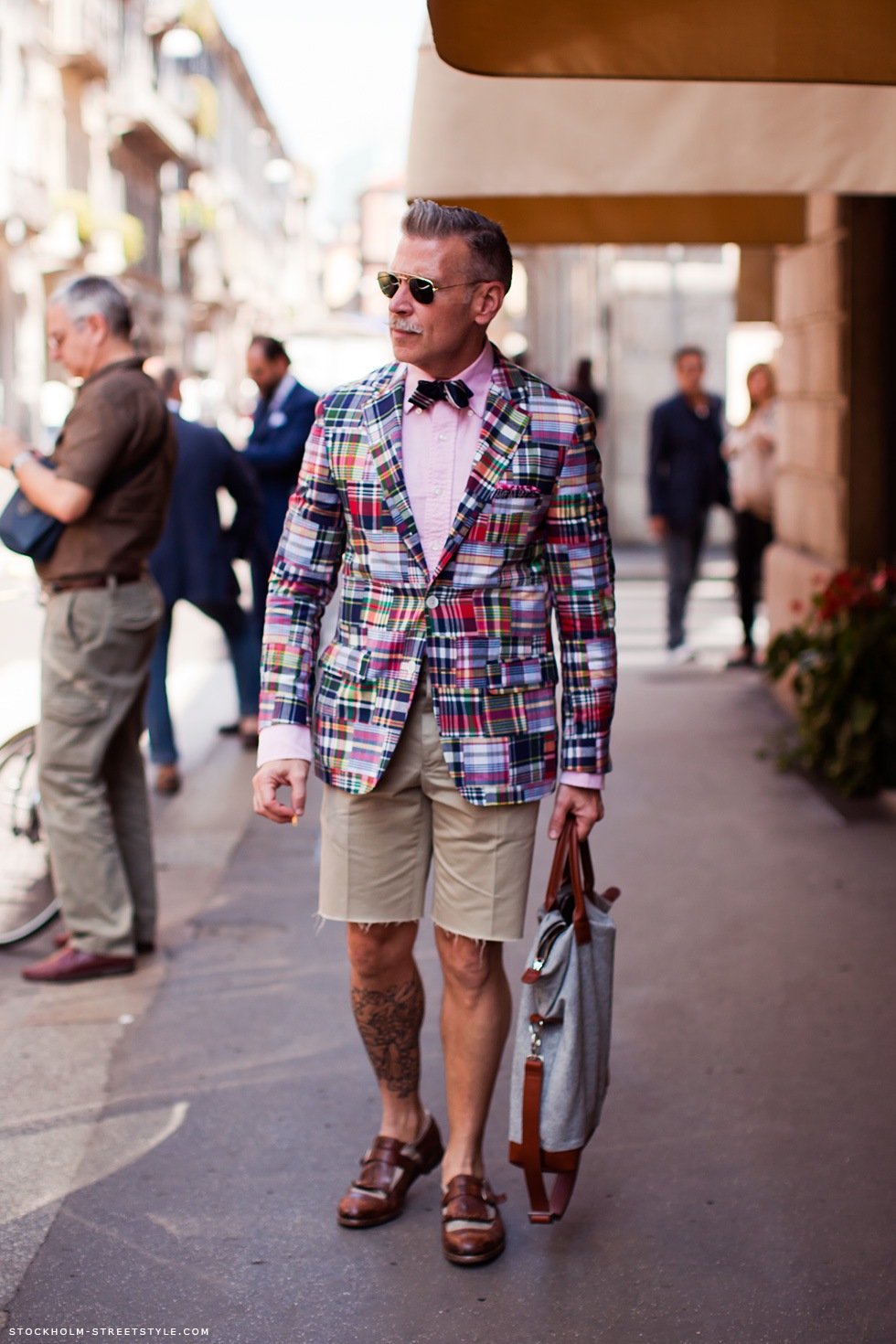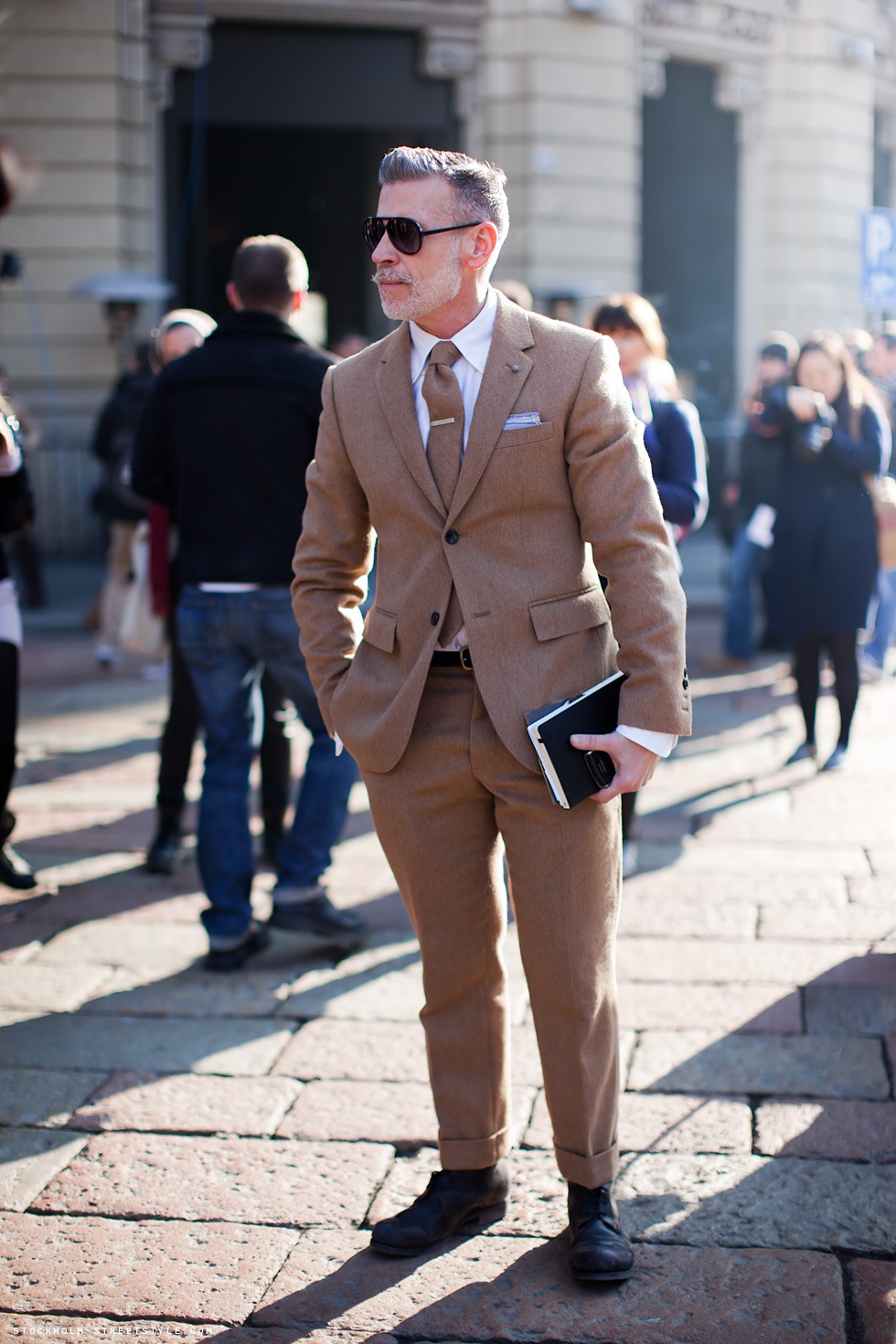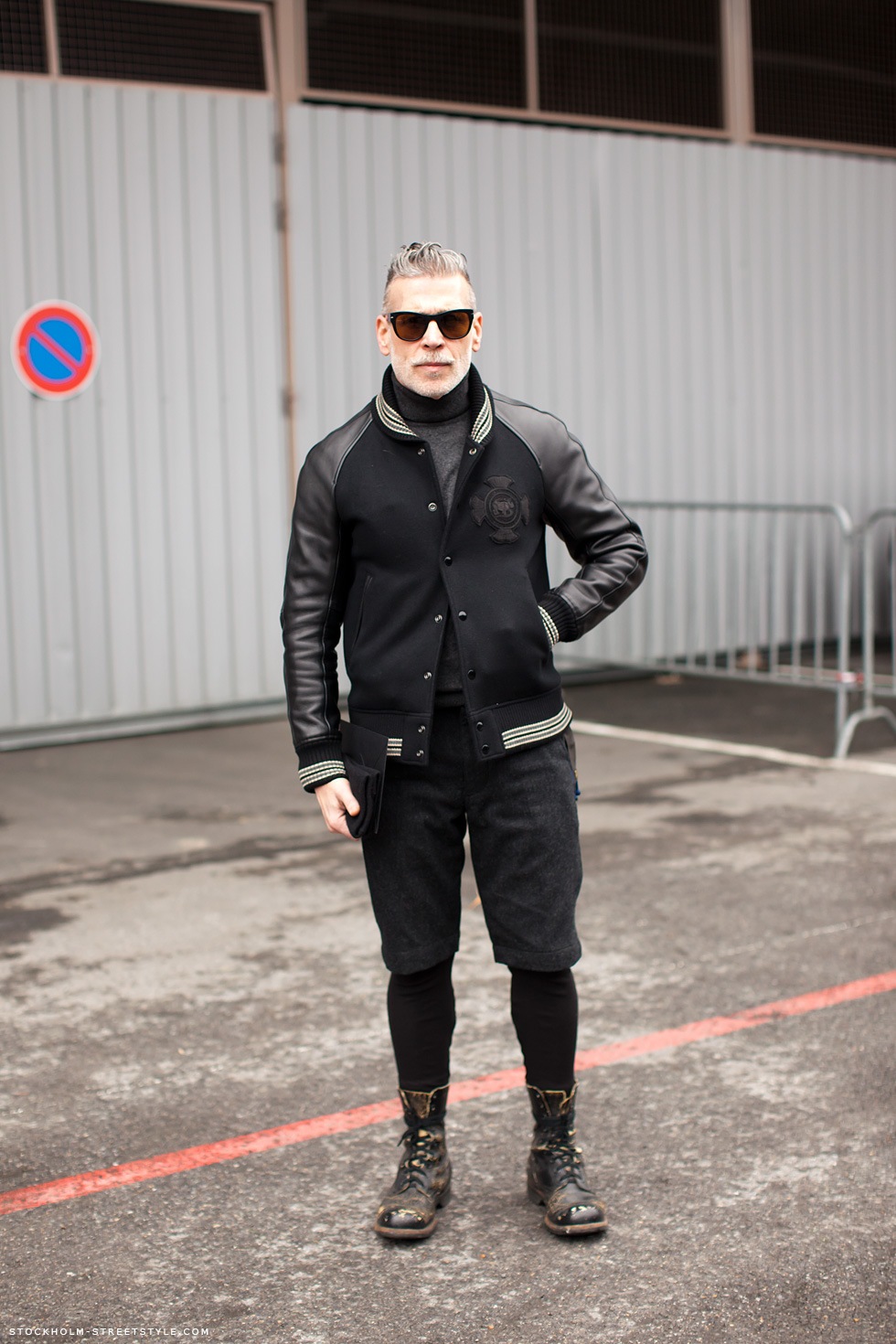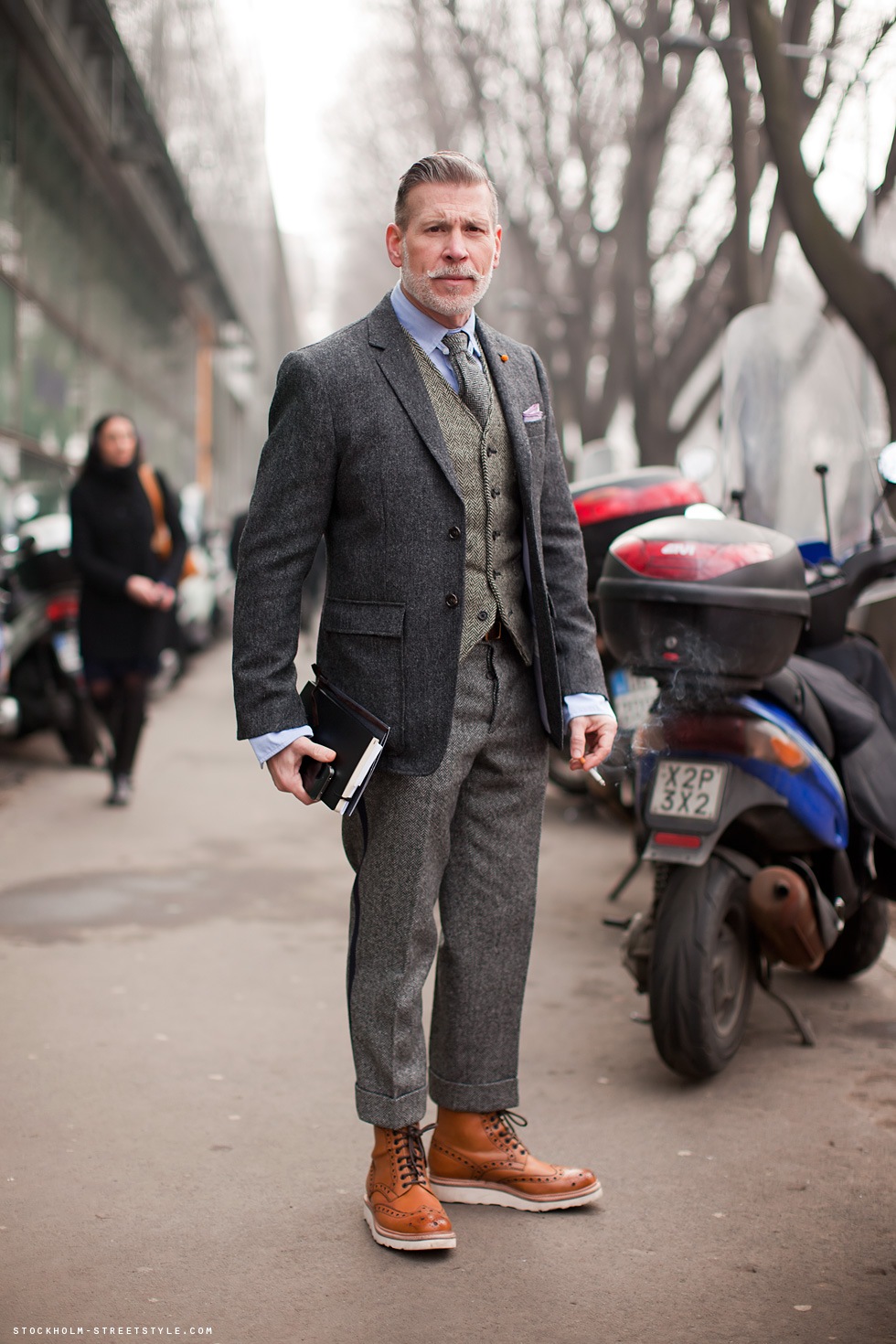 Astăzi am ales, pentru prima dată în cadrul secțiunii "Fashion Trendsetters", să vorbesc despre un bărbat extrem de stilat, pe care sunt convinsă că l-ați observat deja căci, în ultima perioadă, a apărut peste tot pe internet: pe blogurile de street style pozând nonșalant în culisele marilor prezentări de modă, pe site-urile oficiale ale celor mai importante reviste de fashion oferind sfaturi despre stil, tendințe și piesele esențiale, care nu trebuie, sub nicio formă, să-ți lipsească din garderobă în acest sezon și pe blogurile dedicate modei masculine afișând ținute impecabile și destul de îndrăznețe, compuse din sacouri turnate pe corp, pantaloni cu imprimeu leopard, cămăși din stofă deschise la gât, bleu, roz sau albe, pantaloni scurți cargo, pantofi din piele netăbăcită colorați, pulovere tricotate, teniși cu imprimeu camuflaj, curele în culori neon. Sacourile perfect ajustate pe corp, cravatele și papioanele adesea asortate la cămașă sau jachetă reprezintă marca sa distinctivă cu ajutorul căreia mereu reușește să arate atât de stylish și masculin. Alte semne distinctive ar mai fi barba albă, mustața perfect aranjată și tatuajele care îi acoperă ambele brațe, semne care împreună cu stilul său vestimentar inconfundabil l-au transformat, de-a lungul anilor, într-unul dintre cei mai eleganți bărbați din New York. Celebritatea sa se datorează, însă, și fotografilor de street style, precum Scott Schuman și Tommy Ton, care i-au observat potențialul stilistic și i-au promovat alegerile vestimentare.
Nick Wooster s-a născut acum 51 de ani într-un orășel din Kansas și a debutat în lumea modei lucrând ca buyer pentru luxosul lanț de magazine Barneys New York. În 2005 pune bazele firmei de consultanță vestimentară "Wooster Consultancy" colaborând cu nume precum "Thom Browne", "MAC Cosmetics" sau "Gilt Group". Între timp a fost numit "Men's Fashion Director" al rețelei de magazine de lux Neiman Marcus. Anul trecut, însă, a părăsit această funcție iar gurile rele spun că ar fi fost concediat la doar două zile după ce a apărut următoarea sa declarație referitoare la acest post în revista GQ: "Nu sunt decât un pitic bătrân și homosexual care a avut norocul chior de a primi acest job. Nici nu știu cum s-a întâmplat acest lucru." Vara aceasta, după mai bine de un an de pauză profesională, a devenit noul director al departamentului masculin de creație al companiei JCPenny.
Întrebat de către Laura Coronado (lollieshopping.com) cum ar explica interesul tot mai mare al bărbaților vizavi de modă și stil, Wooster a declarat: "Fenomenul numit <metrosexualitate>, care a apărut la sfârșitul anilor '90 – începutul anilor 2000 i-a determinat pe bărbați să acorde o grijă mult mai mare aspectului lor fizic. Felul în care arată astăzi un bărbat de 50 de ani s-a schimbat radical față de felul în care arăta el acum 20 de ani și asta pentru că bărbații au învățat să aibă grijă de ei. Au învățat că trebuie să meargă la sală și să folosească produse cosmetice. Iar asta denotă un interes tot mai mare acordat modului în care se prezintă în societate și stilului vestimentar. Evenimentele la care un bărbat trebuie să participe dar și propria dorință de a arăta bine reprezintă factorii principali ai acestei schimbări. Cu toții ne dorim să ni se spună că arătăm bine iar dacă putem obține aceste complimente cu minim de efort, atunci de ce să mai stăm pe gânduri?"
Photos source: stockholmstreetstyle, streetfsn, jakandjil, lethird, gq.com