This week I decided to tell you the story of a complete different person from the ones I wrote about on my "Fashion Trendsetters" section. I chose Anna Dello Russo, first because she is so funny, amusing and crazy and second because I am so happy and excited about the fact that I will finally get the chance to meet her in person this Sunday, as she is the special guest of "Absolutely Fabulous Fashion and Vintage Fair" (more infos here and here). I just can't wait. A few days ago I read this interview on guardian.co.uk and now I am more than happy to share this with you. If you want to find out more about this "phenomenon", called Anna Dello Russo, I invite you to read the lines below. You can find the translation at the bottom of this post. Enjoy and don't forget to also check out her blog after you'd have finished reading.
"Helmut Newton called her a "fashion maniac". Sarah Jessica Parker was stunned into silence. With her infectious cackle and outrageous dress sense, Anna Dello Russo – influential blogger, editor, street-style icon – is putting the fun back into dressing up.
Anna Dello Russo – Japanese Vogue's editor-at-large, blogger extra-ordinaire, international style sensation, internet iconoclast – stands, virtually naked, in a hotel room in central London, contemplating a raucous fruit-embellished fascinator. She fixes it into the depths of her shiny shiny hair, and considers her reflection in a full-length mirror. Will it do for the London Fashion Week event at which she is expected, shortly? It most certainly will!
"Cherry. Cherry, on my 'ead," she explains. "This is cherry. I like 'ead pieces. I love them. I met Sarah Jessica Parker. I love 'er! I was wearing a watermelon in my hair! She look at me like: 'Oh! Where she from?'" Brief pause. "I should go to [British milliner] Philip Treacy for a…" She says a word, which I think might be "poppy", although I'm not completely sure action pack software herunterladen. Dello Russo is Italian and her English is both hilariously flawed and peppered with fantastical metaphors which makes her a touch obscure almost all the time, although even when you have no idea what she's actually saying, Dello Russo manages to communicate a sense of rollocking enthusiasm. For example: "Fashion, in me, is folie, is sickness! I never bored of fashion. It is my vision for life. Reality for me is too tough. Fashion is an escape. Fashion! Is my addiction! Is better than drugs, or…" she does a little hand mime which I think might be intended to describe a video-game console.
The 48-year-old Dello Russo is the fashion editor who went rogue. In an industry monopolised by unsmiling, flinty-eyed, fearsome women formatted according to the Anna Wintour of American Vogue model, ADR (as she is increasingly known) is a wild, loud, endlessly amused and amusing anomaly. Where most fashion editors are po-faced and restrained, she is giggly and flamboyant. Where they are elusive and exclusive, she is as omnipresent as she can be, and inclusivity is her religion, her schtick. Where they are tight-lipped and mysterious, she blogs, twice a week, for five hours at a time, about anything that takes her fancy.
Her blog homepage features a quote from Helmut Newton, describing ADR as a "fashion maniac", and vintage posts include "10 ways to make sure your fancydress costume won't disappoint French Vogue editor-in-chief Carine Roitfeld" (4. Don't rent the outfit, you'll smell like a dusty attic), a link to the video for "Empire State of Mind", and quantities of puff for her forthcoming fragrance J'ADR! (geddit?), which will be exclusively available online at yoox.com for Christmas, and which she describes as: "A clutch-bag-perfume… a golden slipper like Cinderella shoes… beyond any imagination, beyond any fantasy…"
I first became aware of Anna Dello Russo, and her work in the field of being, well, her, in the late spring/early summer of this year. Her name was being invoked more and more frequently in fashion circles, whispered adoringly and reverentially by PRs and fashion juniors, and checked in style columns. I did a little light Googling and was instantly enlightened.
Anna Dello Russo is the product of our age. A significant but definitely behind-the-scenes player in the game of international fashion for almost two decades, she began gaining a public profile in 2006, via the medium of the Sartorialist.com's Scott Schulman candy crush soda saga. Schulman made a regular feature of Dello Russo and her extravagant style. Dello Russo (catchphrase: "I don't want to be cool. I want to be fashion") makes a point of faithfully recreating designer looks precisely as they are shown on the international fashion-week catwalks. She likes gold brocade-trimmed military coats with absurdly flouncy skirts and matching gold wedges; feathery Jason Wu cocktail dresses, pink cat's-eye sunglasses and glittering explosions of Balenciaga ballgowns. As daywear. Through Schulman's site, ADR gained a fan base.
Somehow Dello Russo began parlaying the Sartorialist's attention into an entire brand identity. She launched her blog and set about the business of becoming a fashion Name. Which she now definitely is. A thrilling fixture on the fashion-week landscape, perhaps not quite as recognisable as Anna Wintour or Carine Roitfeld or Daphne Guinness – yet, at least – but certainly not far off. Her blog attracts thousands of hits a day. In June this year she launched her first piece of merch: an ADR-logo T-shirt, which sold out in the course of a day.
Erm – how? How did she make this happen?
"At this time, I find a new life. Really. A new life. A new energy!" she says. "Something happen! Be visible! You know when you feel inside, fresh air, you want to go, you don't know why. Before this, no visible! Invisible! Like Cinderella, working like a cow!"
Sure. So you enjoyed being photographed by the Sartorialist, you liked feeling visible?
"At the beginning, no! Because I was shy. Really intimidate by that. In the beginning, we [all Schulman's notable fashion editor targets] were shy! We didn't understand, we didn't have the confidence with the poses, in the middle of the street, in front of everyone! It was funny at the beginning!"
But, Dello Russo says, she sensed this was the beginning of something interesting. She began following the progression of street-style blogging in earnest, became friends with Schulman and his blogger peer/girlfriend Garance Dore and eventually launched her own blog cloud 10 for free. "I really get into the mood. I completely understand this was a new media power starting." Bloggers tell the truth about fashion, she says, unlike magazine editors. "In magazine, I say, I was in ivory tower. I didn't have time to listen [to readers]. You don't feel the people, you get list of number [circulation figures, I presume] but… and feedback come one month later. Internet is immediate! Make contact, I feel my audience! I understand what they like! They make a break in the rules! They talk to you!"
Anna Dello Russo was always interested in fashion. Obsessed by it. She grew up in southern Italy, daughter of a psychiatrist father and a naturalist mother, with a brother and a sister who had absolutely no interest in clothes. She first realised she suffered from what she joyfully refers to as her "sickness" when she was 12. "My father say: 'What you want for a gift?' I say: 'One set of Fendi.' He say: 'OK, let's go to the shop.' I say: 'Is not bag, is set. Which means: bag, wallet, scarf, umbrella… All matching.' My father say: 'Where you go with this umbrella? Here, is not raining!' I come from south of Italy. He say: 'Where you go with this?' I say: 'I go to the school!' He say: 'With your umbrella?' I say: 'Yes! This is part of the look!'"
She studied history of art at university. When she graduated, her father packed her off to Milan to do a masters in fashion ("Luckily, he is very support"); she studied under designer Gianfranco Ferrè, and then got a job at ItalianVogue. From there, she climbed the fashion ranks, steadily and diligently, until she made the renegade leap into whatever it is she does now. She gave up her desk-job as creative director for L'Uomo Vogue in 2006 to take on a more free-flowing venture as editor-at-large on Japanese Vogue, a post which allows her to explore her other interests, invest time in her blog and her outfit concepts.
Along the way, Dello Russo has collected a vast quantity of clothes, which she keeps in the Milanese apartment next to the one in which she lives with her dog, Cucciolina atube catcher kostenlos downloaden neue version. I can't quite get to the heart of her finances. Possibly, the Japanese Vogue gig pays so handsomely she can afford those two apartments and the hundreds of thousands of pounds' worth of Prêt-à-porter. All she will offer is: "Of course, I am journalist! Then I have discount, I am privileged!"
And what of her personal life? I know that Dello Russo doesn't have children and that she does a lot of yoga. She has made fleeting references to boyfriends from time to time. Right now, she says she is single.
"I spend all my life in fashion! I don't have children. I actually have a dog. And I lost my husband anyway. Because he said: 'Too much clothes, in your house!' He said to me: 'Where is the space for me?' I said: 'There is no space for you.' He says: 'Where is the space in the closet?' There is no space in the closet! He says: 'Are you crazy?' Then he left. No space for 'im!" She was married, she tells me, for a little over a month, and she wore a black Balenciaga two-piece on the day her divorce became official. "My dog, she doesn't need the space in the closet. She doesn't like clothes. I tried to put on some clothes, she hates!"
Dello Russo has said she was sad when she divorced, but she doesn't seem remotely sad now. She laughs throughout the time I spend with her – cackles, actually – and then she totters off into the London night, with her cherry headpiece and her assistant from Japanese Vogue, throwing out final words of wisdom regarding the future of fashion blogging in her wake. "When is starting, any revolution, big earthquake, no control. Like now. We need the time to reset. Select out all the shit stuff. Edit. It already start. It already start."
On a personal level, she wants more Twitter followers than Lady Gaga. "I see the numbers like Lady Gaga! I am jealous!" And yet again, I am struck by the fact that while I don't technically understand exactly what it is Anna Dello Russo's saying to me – I do get it. I really do." (interview source: guardian.co.uk)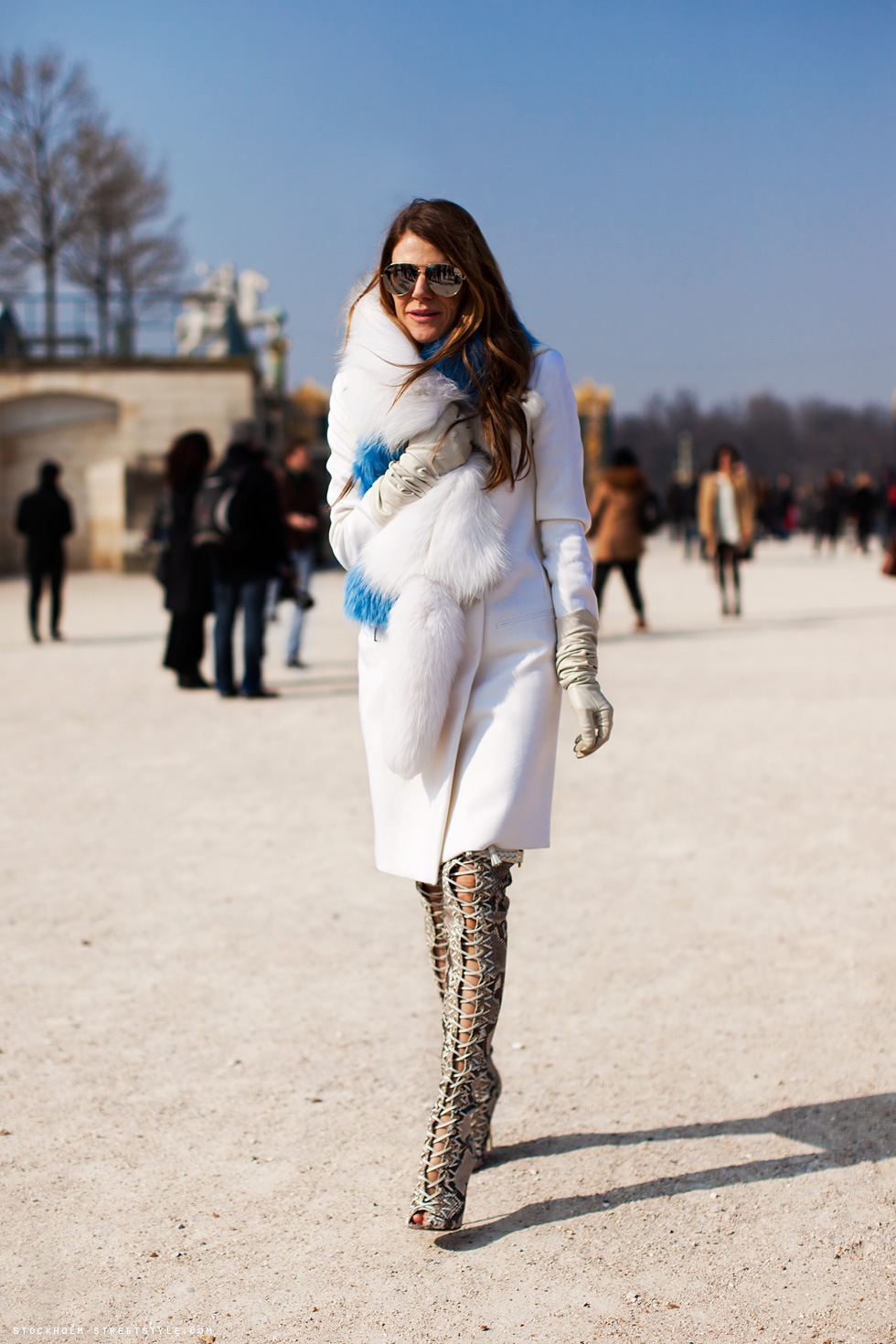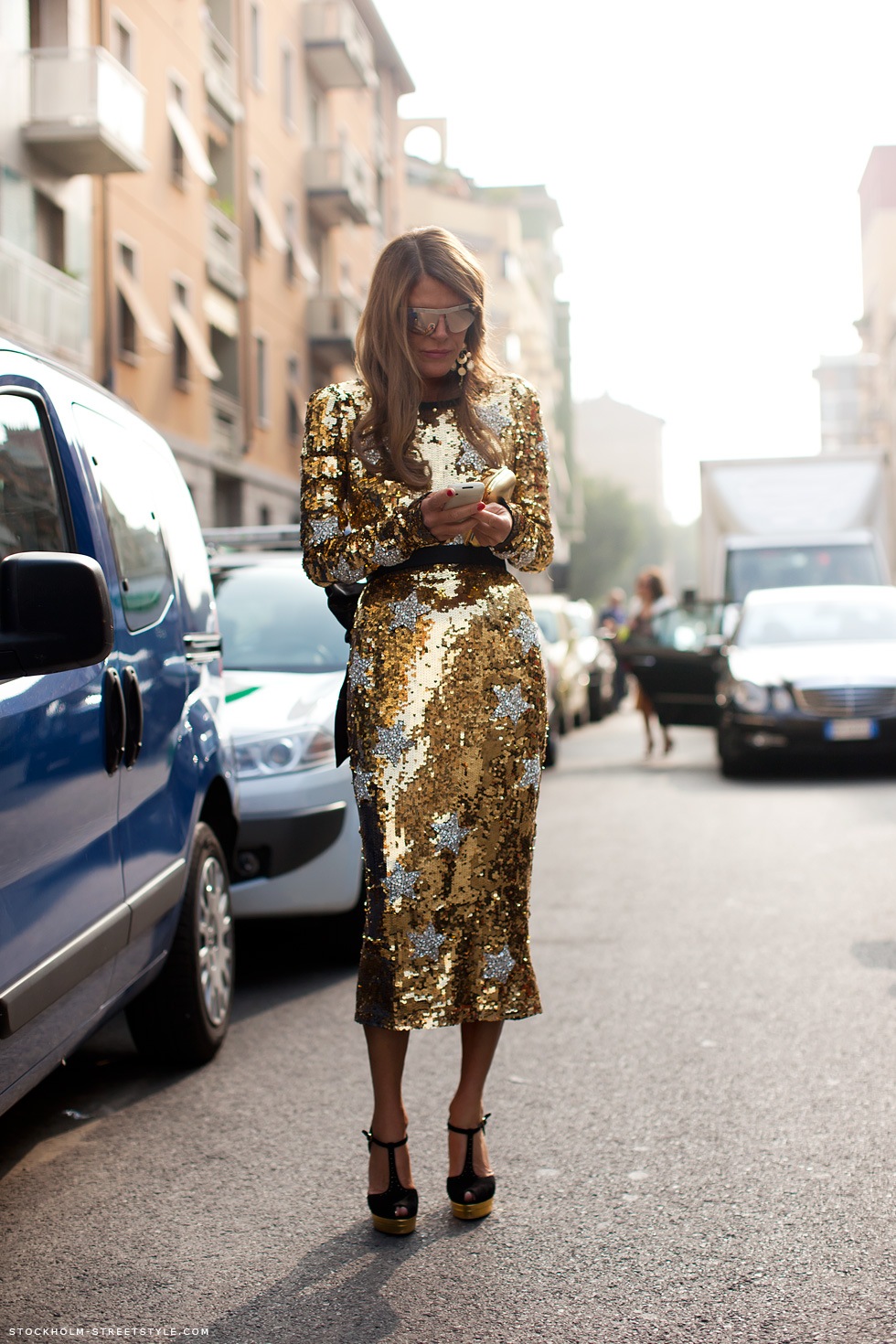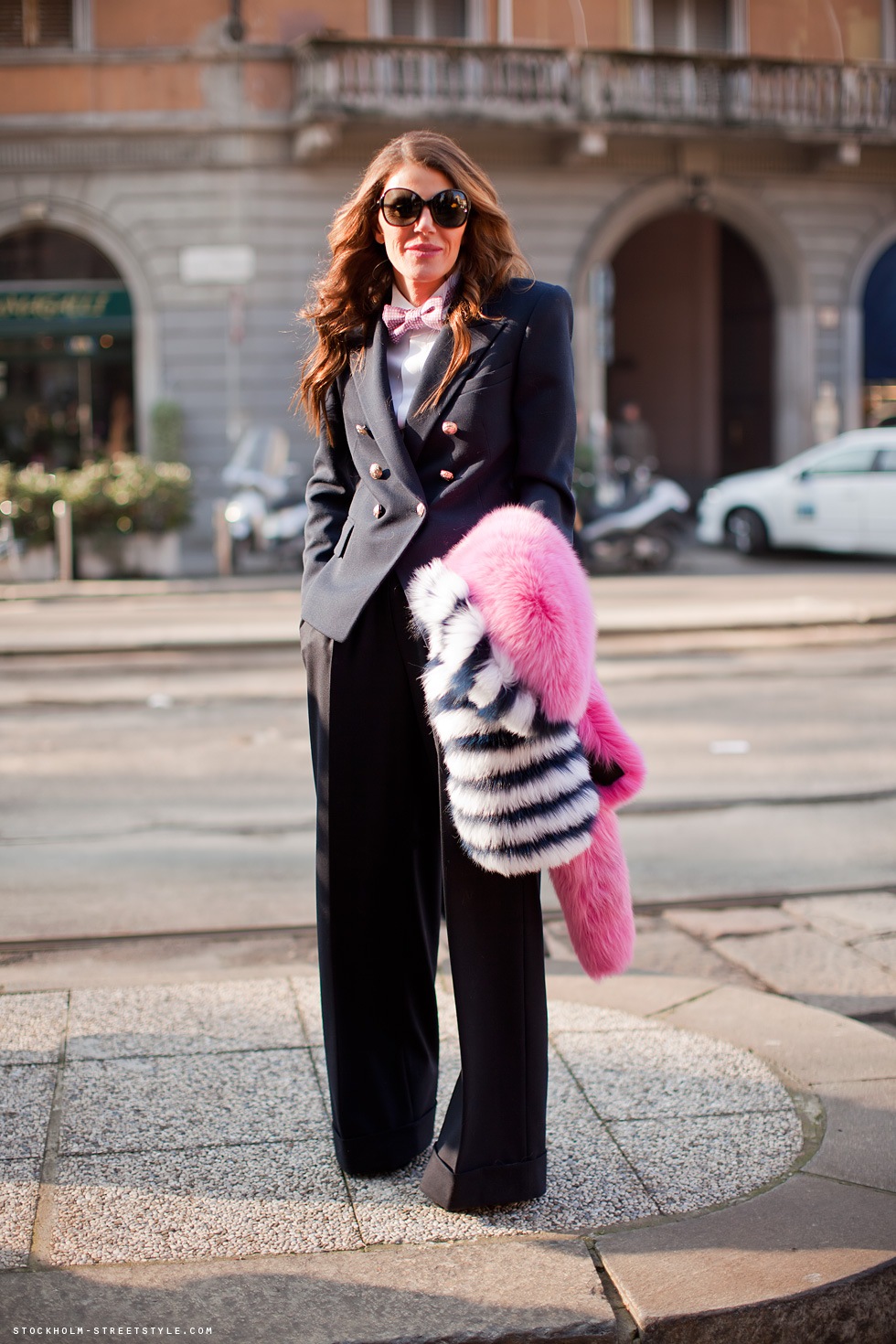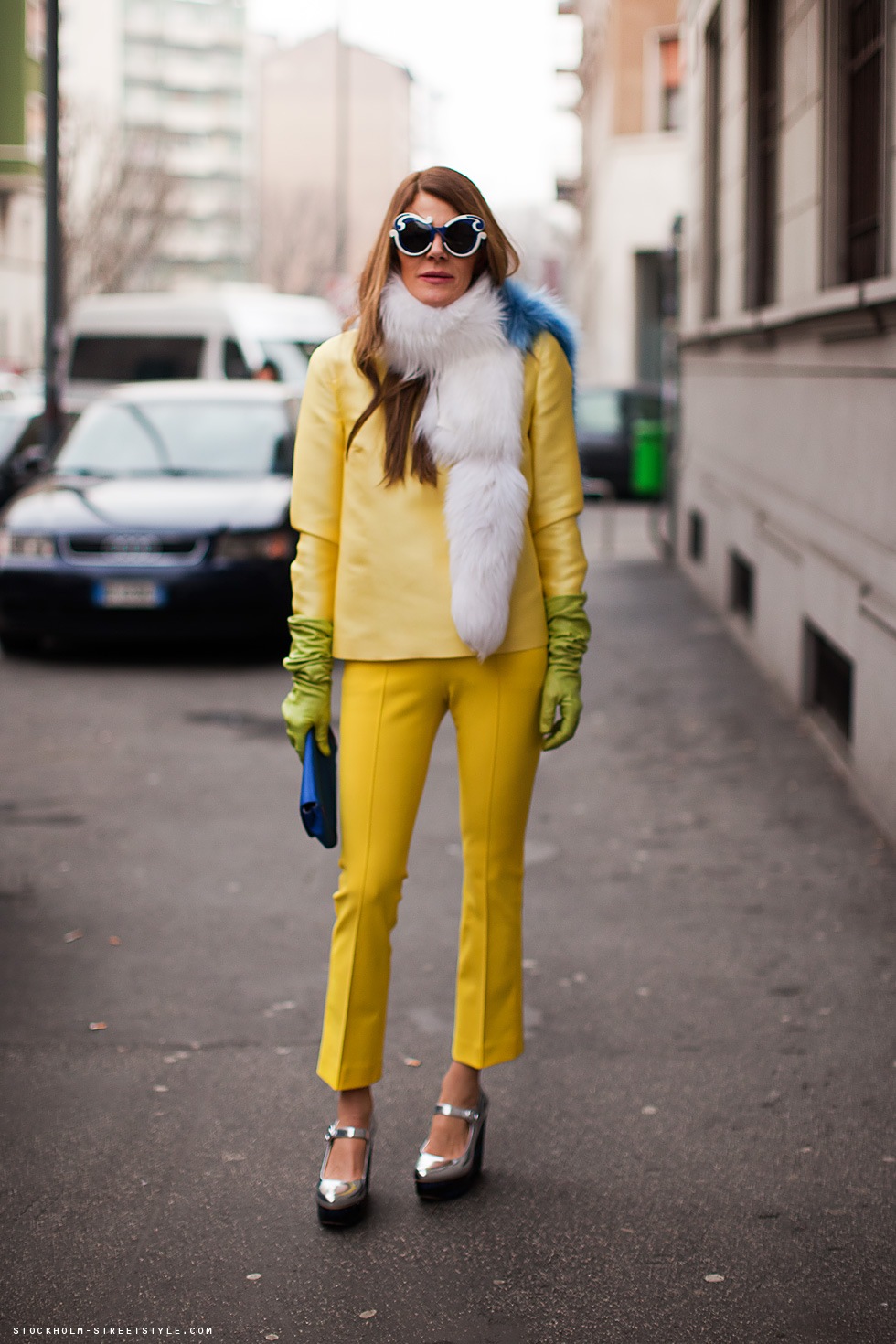 In aceasta saptamana am ales sa va vorbesc despre o persoana total diferita fata de toate celelalte "fashioniste" din cadrul rubricii "Fashion Trendsetters" lieder aus youtube herunterladen kostenlos. Am decis sa va spun cateva vorbe despre Anna Dello Russo, in primul rand deoarece este atat de amuzanta, vesela si nebuna, iar in al doilea rand pentru ca nu-mi mai pot ascunde fericirea si entuziasmul. Duminica aceasta voi avea, in sfarsit, ocazia de a o intalni personal deoarece Anna Dello Russo este invitatul special al evenimentului "Absolutely Fabulous Fashion and Vintage Fair" (mai multe informatii puteti gasi aici si aici). De-abia astept. Dar nu eu sunt, de fapt, cea care va va povesti despre "fenomenul" numit Anna Dello Russo, ci voi traduce articolul genial pe care editorul Polly Vernon l-a publicat pe site-ul guardian.co.uk. N-as fi reusit sa scriu un articol mai bun, mai amanuntit si mai placut despre Anna Dello Russo decat Polly Vernon. Trebuie sa recunosc faptul ca mi-a placut prea mult acest articol, incat sa nu il "impartasesc" aici cu voi iar dupa ce veti citi randurile de mai jos, va recomand sa aruncati o privire pe blogul Annei.
"A fost descrisa de catre celebrul fotograf Helmut Newton drept o "fashion maniac". Sarah Jessica Parker a ramas muta de uimire cand a vazut-o. Anna Dello Russo, bloger influent, editor si unul dintre personajele principale care apar pe blogurile din toata lumea de street style, a reusit in ultimii ani sa influenteze industria modei intr-un mod amuzant si distractiv prin simtul sau estetic extraordinar si chicoteala contagioasa.
Anna Dello Russo -consultant creativ al Vogue-ului japonez, blogerul excentric care a spart tiparele impuse de internauti si senzatia modei internationale- sta in picioare, efectiv goala, intr-o camera de hotel din centrul Londrei si priveste admirativ o bentita impodobita cu un fruct enorm. Apoi isi fixeaza bentita in parul sau uimitor de stralucitor si isi contempleaza propria imagine in oglinda, intrebandu-se daca acesta este accesoriul potrivit pentru evenimentul la care urmeaza sa asiste din cadrul Saptamanii Modei de la Londra. Cu siguranta este!
"Cirese. Cirese pe capu' meu!", explica ea. "Acestea sunt cirese. Imi plac bentitele si palariile. Le iubesc. M-am intalnit cu Sarah Jessica Parker. O ador! Purtam un pepene rosu in par! M-a privit de parca ar fi zis: "Oh! De unde vine?" Pauza scurta. "Ar trebui sa merg la [palarierul] Philip Treacy pentru….." A rostit un cuvant, care s-ar putea sa fi fost "opiu", dar nu sunt foarte sigura. Dello Russo este italianca iar engleza sa este in mod ilar defectuoasa si bombardata cu metofore fantastice, greu de deslusit iar chiar daca ai impresia ca nu intelegi absolut nimic din ceea ce spune, Dello Russo reuseste sa-si expuna ideile cu o inflacarare galagioasa. De examplu: "Moda, pentru mine, este o nebunie, o boala! Niciodata nu ma plictisesc de moda. Reprezinta viziunea mea asupra vietii. Pentru mine, realitatea e prea dura. Moda reprezinta o forma de evadare. Moda! E dependenta mea! E mai buna decat drogurile sau…." face semne cu mainile ca si cum ar mima o consola de jocuri video.
Dello Russo este, de fapt, un editor de moda de 48 de ani destul de "nazdravan". Intr-o industrie dominata de femei posomorate, de neclintit si chiar fioroase, dupa modelul Annei Wintour, redactorul sef al Vogue-ului american, ADR (abrevierea numelui e folosita mai des decat numele complet) reprezinta o anomalie salbatica, rasunatoare, mereu cu capul in nori si nesfarsit de amuzanta. In timp ce majoritatea editorilor de moda este total lipsita de umor si retinuta in declaratii, ea este extrem de glumeata si flamboaianta. In timp ce ei nu stiu ce sa mai faca pentru a se ascunde de presa si se cred fiinte superioare, ea e omniprezenta oriunde iar modestia este al doilea sau nume si deasemenea trasatura de caracter care a facut-o atat de recognoscibila. In timp ce ei au buzele ferecate si fac tot timpul pe misteriosii, ea detine un blog pe care posteaza de doua ori pe saptamana, timp de 5 ore, articole dintre cele mai diverse.
Pagina de pornire a blogului contine un citat de-al lui Helmut Newton, care o descrie pe ADR drept o "fashion maniac", articole vechi printre care cel numit "10 reguli dupa care sa te ghidezi daca vrei ca rochia ta eleganta sa n-o dezamageasca pe redactorul-sef al Vogue-ului francez, Carine Roitfeld (regula numarul 4: nu inchiria tinuta, altfel vei mirosi ca o mansarda prafuita)", un link spre videoclipul melodiei "Empire State of Mind" si multe aluzii referitoare la viitorul sau parfum, J'ADR (v-ati prins de asemanare?) care va fi disponibil doar online pe yoox.com incepand cu sfarsitul lunii decembrie si pe care-l descrie ca fiind "un parfum pe care vei dori sa-l tii in poseta si sa-l porti mereu cu tine….iar sticla va avea forma unui condur auriu, precum pantofii Cenusaresei, dincolo de orice imaginatie si fantezie".
Trebuie sa recunosc faptul ca prima data cand am auzit de Anna Dello Russo si eforturile ei de a deveni, ei bine, ea insasi, a fost pe la sfarsitul primaverii, inceputul verii anului trecut. Numele ei incepuse sa fie vehiculat din ce in ce mai mult in cercurile industriei modei, soptit cu veneratie si respect de toti PR-ii si incepatorii din acest domeniu si scris cu litere de tipar in articolele din ziarele si revistele de profil. Dupa o scurta cautare pe Google, am aflat in cele din urma cine era, de fapt, aceasta persoana.
Anna Dello Russo este, fara doar si poate, produsul epocii in care traim. Aproape 20 ea a reprezentat un pion important al indutriei internationale a modei, aflandu-se permanent in spatele scenei, dar de curand, mai precis din 2006 a inceput sa se bucure de interesul publicului si asta datorita blogului lui Scott Schuman, thesartorialist.com, unde a aparut de foarte multe ori etalandu-si stilul extravagant. Dello Russo (a carei lozinca a devenit in scurt timp la fel de faimoasa ca si ea: "Nu vreau sa fiu cool. Vreau sa fiu intruchiparea modei.") respecta cu religiozitate si copiaza intocmai tinutele pe care designerii le prezinta pe podiumurile internationale. Ii place sa poarte jachete militare cu insertii aurii de brocart combinate cu fuste exagerat de plisate si platforme aurii, rochii de cocktail din pene semnate Jason Wu purtate cu ochelari de soare roz in forma ochilor de pisica sau rochii de bal sclipitoare, semnate Balenciaga. Si toate acestea ca tinute de zi. Prin intermediul blogului lui Schuman, ADR si-a castigat foarte multi fani.
Intr-un fel sau altul, Dello Russo a reusit sa se foloseasca de aprecierea de care beneficia pe blogul thesartorialist.com pentru a-si construi o noua identitate. Astfel si-a creat propriul blog si si-a pus in gand sa devina un nume important al industriei modei. Si chiar a reusit acest lucru mult mai curand decat s-ar fi asteptat. A devenit o aparitie constanta in peisajul Saptamanilor Modei, poate ca nu atat de recognoscibila precum Anna Wintour, Carine Roitfeld sau Daphne Guiness, dar cu siguranta nu se afla foarte departe in urma lor. Blogul ei beneficiaza de mii de vizualizari in fiecare zi iar anul acesta, in iunie, a lansat primul produs semnat de ea, o gama de tricouri cu logo-ul ADR, epuizata chiar din prima zi. Cum de reuseste toate aceste lucruri?
"Am gasit un nou sens al vietii. Pe bune. Un nou sens. O noua energie!", spune ea. "Se intampla ceva. Fii vizibil! Stii atunci cand te retragi in interiorul tau si apoi vrei sa evadezi, sa iei o gura de aer proaspat dar nu stii cum. Inainte de asta nu esti deloc vizibil. Invizibil! Precum Cenusareasa, muncind ca o sclava!"
Desigur. Sa inteleg ca te bucuri cand esti fotografiata de Scott Schuman, iti place sa fii in vizorul tuturor?
"La inceput nu mi-a placut! Deoarece eram timida. Ma intimida foarte tare aceasta situatie. La inceput eram cu totii (toti editorii de moda care cadeau prada aparatului de fotografiat al lui Schuman) timizi! Nu intelegeam fenomenul, nu stiam cum sa pozam si ce pozitie sa adoptam acolo in mijlocul strazii, in vazul tuturor! La inceput a fost destul de amuzant!"
Insa, Dello Russo a recunoscut ca, inca de la inceput a simtit ca un nou fenomen extrem de interesant incepe sa prinda contur, incet dar sigur. Astfel a urmarit si a luat in serios dezvoltarea blogurilor de street style, s-a imprietenit cu Scott Schuman si colega/iubita lui blogerita, Garance Dore, iar in cele din urma, si-a lansat propriul blog. "Acest fenomen m-a acaparat complet. Am inteles pe deplin acest nou fenomen media. Blogerii, spre deosebire de editorii revistelor, spun adevarul despre moda, Dupa parera mea, cand lucram la revista, ma aflam incarcerata intr-un turn de fildes. Nu aveam timp sa ascult (parerile cititorilor). Nu simti oamenii, doar primesti o lista cu numere…" (presupun ca se refera la numarul celor care cumpara revista).."dar….iar reactiile apar dupa o luna. Internetul se intampla imediat! Prin intermediul lui imi simt audienta! Inteleg ceea ce le place! Ei sparg regulile! Ei iti vorbesc!"
Anna Dello Russo a fost intotdeauna interesata de moda. Obsedata chiar. A crescut intr-un oras din sudul Italiei, familia sa fiind alcatuita din tatal sau, de profesie psihiatru, mama sa, de profesie naturista, fratele si sora sa care nu dadeau doi bani pe haine. Prima data cand si-a dat seama ca sufera de aceasta "boala", cum numeste ea obsesia pentru moda, avea doar 12 ani. "Tatal meu m-a intrebat: ""Ce cadou vrei sa-ti cumpar?"" I-am raspuns ca vreau un set Fendi iar el a zis: ""In regula, sa mergem la magazin."" Eu i-am spus: E un set, nu doar o geanta, asta insemnand geanta, portofel, esarfa, umbrela…toate din acelasi set. Tatal meu a replicat: ""Unde mergi cu umbrela? Aici nu ploua niciodata."" Vin din sudul Italiei. Eu i-am zis ca merg la scoala. ""Cu umbrela?"" m-a intrebat el. Eu i-am raspuns: Da, face parte din tinuta."
ADR a studiat Istoria Artei si dupa ce a absolvit facultatea, tatal sau i-a facut bagajele si a trimis-o la Milano pentru a urma un Master in domeniul modei. ("Din fericire, tatal meu este foarte intelegator.") Acolo, unul dintre profesorii sai a fost designerul Gianfranco Ferre iar dupa terminarea masterului a obtinut un job in cadrul Vogue-ului italian. De atunci a escaladat in mod constant si inarmata cu multa rabdare culmile acestei industrii iar in cele din urma a facut pasul decisiv si a devenit ceea ce este astazi. In 2006 a demisionat din functia de director creativ a revistei "L'Uomo Vogue" si a pornit intr-o aventura initiatica si in cautarea unui job care sa-i ofere mai multa libertate de exprimare si mai mult timp liber pe care sa-l investeasca in blogul sau si in crearea tinutelor sale extravagante. Astfel a devenit consultant creativ pentru Vogue-ul japonez.
De-a lungul timpului, Dello Russo a reusit sa stranga foarte multe piese vestimentare, pe care le tine la loc de cinste intr-unul din cele doua apartamente ale sale din Milano iar in celalalt (situat vizavi) locuieste ea impreuna cu catelusa sa Cucciolina. Chiar nu pot sa-mi dau seama de unde are atat de multi bani. Cel mai probabil, contractul ei cu cei de la Vogue Japonia este atat de avantajos, incat isi permite fara prea multe eforturi cele doua apartamente si toate acele hainele care valoreaza sute de mii de euro. Drept lamurire, imi spune: "Bineinteles, sunt jurnalist. Am parte de reduceri, sunt privilegiata!"
Dar ce se intampla cu viata ei personala? Stiu ca nu are copii si ca face foarte multe exercitii de yoga. Din cand in cand mai face cateva referiri pasagere la anumiti iubiti dar momentan  a declarat ca nu este implicata intr-o relatie stabila.
"Toate activitatile mele sunt legate de moda! Nu am copii. In schimb am un caine. Si mi-am pierdut sotul cu ceva timp in urma pentru ca mi-a zis: ""In casa ta sunt prea multe haine. Eu unde mai am loc printre toate aceste haine?"" I-am raspuns: Pai nu mai ai loc. El mi-a spus: ""Unde a disparut spatiul din dulap? Nu mai e nici un pic de spatiu. Esti nebuna?"" Apoi a plecat. Ce-i drept nu era loc pentru el!" Imi povesteste ca a fost maritata timp de o luna si ceva iar in ziua in care s-a pronuntat divortul a purtat un costum deux-piece negru Balenciaga. "Cainele meu nu are nevoie de spatiu in dulap. Ei nu-i plac hainele. Am incercat s-o imbrac dar uraste hainele!"
Dello Russo mi-a spus ca a fost trista in ziua in care a divortat, dar acum i-a trecut. Pe durata celor catorva ore pe care le-am petrecut impreuna, a zimbit incontinuu, sau mai bine zis a chicotit neincetat, iar apoi s-a facut nevazuta in noaptea londoneza impreuna cu bentita sa cu cirese si asistenta de la Vogue Japonia, lasand in urma cateva vorbe intelepte referitoare la viitorul blogurilor de fashion: "Orice revolutie, cand incepe se produce un mare cutremur si nu mai detii controlul. Ca acum. Avem nevoie de timp pentru a ne reveni, pentru a selecta toate lucrurile rele. Si pentru a edita. Deja a inceput. Deja a inceput!"
Pe plan personal isi doreste sa aiba mai multi fani pe Twitter decat Lady Gaga. "Am vazut cifrele lui Lady Gaga! Sunt geloasa!" Desi tind sa ma repet, sunt absolut uimita de faptul ca, desi nu pricep tot ceea ce Anna Dello Russo imi spune, totusi inteleg ideea. Chiar inteleg.
Photo source: carolinesmode.com, forgottengent.com, annebernecker.wordpress.com, garancedore.fr, alltheprettybirds.blogspot.com, streetpeeper.com, thestreetfashion5xpro.blogspot.com, waynetippetts.com, glamour.com, miamarionette.blogspot.com